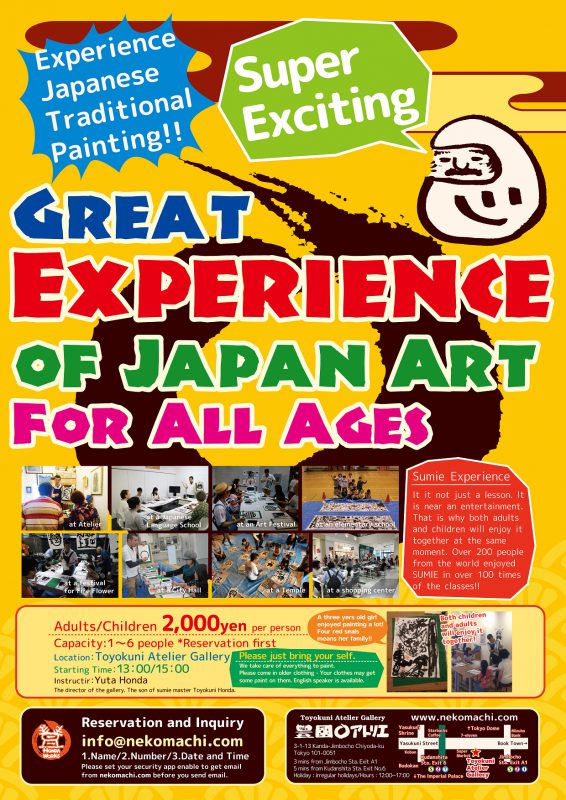 To get informations easily on smartphones, visit www.nekomachi.com.
In this activity, you'll be taught how to paint bamboo, san-sui landscape, and more in sumi-e painting. You'll paint 4-5 pieces in an hour in the class.
What is special? / Sumie Workshop
There is no mistake in sumie painting, especially in the sumie class. Sumie can make you free from all including sadness and bad mood and so on. Adults and children can enjoy painting together at the same moment. It also makes you go over the all walls of generations, nations, genders, and more. Sumie is easy and simple and interesting, so we can do it easily. In this point, it could be called Momentary Painting. That's because children can paint 10-20 paintings in an hour and they can keep their concentrations in the entire class without any boring. That's amazing things. Please check out about Children in usual. You can find the sumie class great. Anyway, Sumie is so fun and easy, and simple.
That makes you have fun. That makes you glad and happy. That makes you smile naturally. Why not do it?
Over 200 people from a whole world enjoyed SUMIE in over 100 times of the classes!!
Not only adults but children enjoyed painting very much. Indian ink and rice paper and Janapanes brushes gives you a great experience. Stroking a lot of lines makes you concentrated naturally. Expressing in sumie way makes you happy. In which there is no differences between ages. It is for any ages. After finishing the class, they would get something new and great.
Let's have some fun with sumie painting!
Details
Please go to www.nekomachi.com to get more informations and to make a reservations. Thank you.
includes the directions/map to the gallery and contents of the class, or whatever. It is so suitable on your smartphones.
The locations of brochure of the sumie class
Sakura Hotel Jimbocho
Sakura Hotel Ikebukuro
Ikebukuro Royal Hotel
Sotetsu Fresa Inn Hotel Ochanomizu Jimbocho
APA Hotel Kudanshita
APA Hotel  Higashi Shinjuku Ekimae
本と街の案内所 The Visitor Center Of Book Town Jimbocho
Ocha-Navi Gate The Visitor Center Of Ochanomizu (In Sora City)
Sunroute Hotel Higashi Shinjuku
Hotel Sunlight Shinjuku
Hotel Tateshina Shinjuku
Hotel Listel Shinjuku
Informations at reception of Hotels
Grand Palace Kudanshita
Hotel Metropolitan Edmont Tokyo
Hotel Villa Fontaine Kudanshita
Tokyu Stay Hotel Suidobashi
Hotel Niwa Tokyo
ViaInn Shinjuku
THE PRINCE GALLERY TOKYO KIOICHO, A LUXURY COLLECTION HOTEL
Sheraton Miyako Hotel Tokyo
Media(JP)
産経新聞WEB版 「「私だけ」訪日体験プランが外国人客に大受け 墨絵体験、相撲の朝稽古、芸者体験…」 (2016/9/4)
FMヨコハマ SUNSTAR WEEKEND JOURNEY 出演(2017年2月5日22:00~22:30放送(大阪近郊FM COCOLO:2/4(土)23:00~))