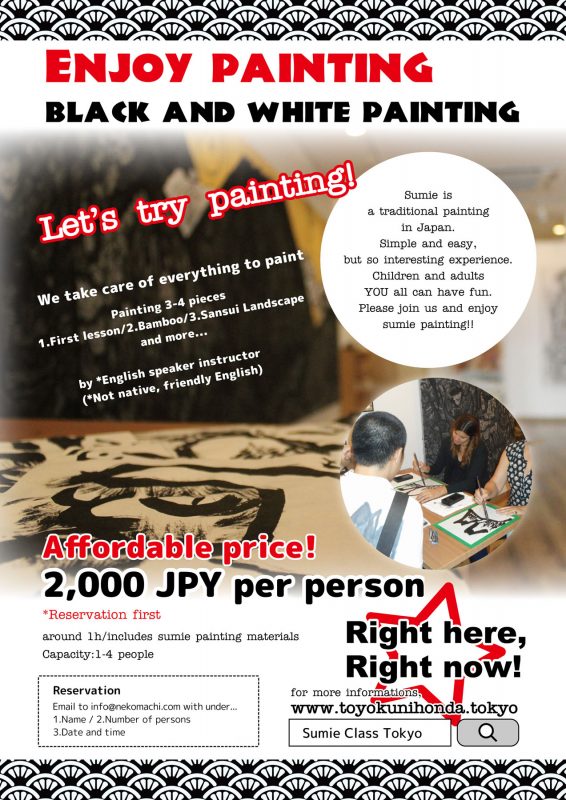 This class is for beginners. It's just an experience but it's so fun! You would be a sumie painter soon!
Let's have fun with Sumie Painting!!
In this activity, you'll be taught how to paint bamboo, San-sui landscape, and more in sumie painting. You'll paint 4-5 pieces an hour in the class.
No mistake in our sumie class. Also no painting well no bad. It's just a flavor. All paintings become your masterpiece. That is sumie painting. All of you can have some fun. Of course children can also have some fun. They could do it better than adults by any chance…they have insatiable imagination.
After the class, you all could be a painter of sumie painting! Easy and fun! Let's try to paint!
Let's have some fun with sumie painting!
Sumi-e Class "Experience" Review *English
First time experience SUMIE(Review) *English subtitles
Cost : 2,000 yen per person (1h)
Includes materials and art instruments.
Start Time : 13:00/15:00/17:00
on open days except every Saturday and irregular holidays.
Please check out our web site for the information of open/close.
Capacity : 1-4 people
Place : Toyokuni Atelier Gallery (Map & Directions)
Instructor : Yuta Honda (the master of the gallery)
Credit card : Accepted(VISA, Master Card, American Express)
Attention :
Please just bring yourself. We take care of everything to paint. And please come in older clothing – Your clothes may get some paint on them.
Reservations and Inquiries :
Toyokuni Atelier Gallery
Email info@nekomachi.com
You'd better to researve a class on e-mail. Please let me us 1.Your Name, 2.Number of persons, 3.Date and starting time.
http://www.veltra.com/en/asia/japan/tokyo/a/132481

by veltra.com
Enjoy sumie!
The locations of brochure of the sumie class
Sakura Hotel Jimbocho
Sakura Hotel Ikebukuro
Ikebukuro Royal Hotel
Sotetsu Fresa Inn Hotel Ochanomizu Jimbocho
APA Hotel Kudanshita
APA Hotel  Higashi Shinjuku Ekimae
本と街の案内所 The Visitor Center Of Book Town Jimbocho
Ocha-Navi Gate The Visitor Center Of Ochanomizu (In Sora City)
Sunroute Hotel Higashi Shinjuku
Hotel Sunlight Shinjuku
Hotel Tateshina Shinjuku
Hotel Listel Shinjuku
Informations at reception of Hotels
Grand Palace Kudanshita
Hotel Metropolitan Edmont Tokyo
Hotel Villa Fontaine Kudanshita
Tokyu Stay Hotel Suidobashi
Hotel Niwa Toklo
ViaInn Shinjuku