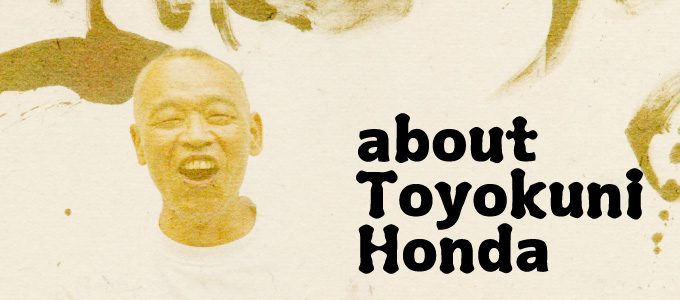 Though he started his artistic journey working in oil paint, Toyokuni Honda had an epiphany as a young man when he saw the ancient, faded paintings in temples in Mongolia and the Gobi Desert. He realized that color is fleeting and temporary; line is everything. At that point he began his lifelong practice of the medium of sumi ink and pigment to explore Asian themes.
Among his greatest achievements were the monumental Great Nirvana mural at Zenjo-ji Temple, in Kyoto, Japan, which measures 26x 147 feet, completed in 1999 after two years of preparation and four years of actual work. The mural depicts 44 kannons, or goddesses of mercy, surrounding images of nirvana. In 2001, he began his ongoing USA 50 project, in which he will depict every American state from his own viewpoint using traditional Japanese techniques.
Besides gaining renown in his native Japan, he has also received international attention for his work, having been awarded prizes at exhibitions in Bologna, Italy; Lannion, France; Bratislava, Slovak Republic; and Tsingtao, China.
Beginning in 2002, Mr. Honda launched a series of live sumi-e performances, painting on huge canvases in front of audiences in Japan and the US, sometimes in collaboration with various rhythmic musicians, to reintroduce to viewers the joyful and spiritual world of sumi-e.

Sumi-e Live Painting Performance
Sumi-e live performance is an event that draws the sumi painting on large canvas improvised in front of a large number of people.
Audience will be enthusiastic about sumi painting to go completed steadily and splashes vigorously. Energy of Sumi explodes with an exuberance, works come along rapidly gives full of energy and strong impression from children to adults. One that combines the fun of art and a variety of charm is the sumi painting live performance.
Sumi-e painting live performance has been done nearly 50 times in Japan and overseas already. Toyokuni has been drawing a lot of themes. They gave him a compliment and a big applause from the audience all. Theme Highest Rated is the dragon. The dragon has enthralled audiences everywhere.
~ Painting all states in the United States in sumi-e painting ~
Toyokuni Honda made a decision at Laguna Beach in Southern California in the spring of 2001.
Painting all states of the United States, it was the starting as the project of USA 50. He wanted to paint and express out breathes of people and lives with a variety of vast nature in that country.
Soon, he had started the long way to finish them. First, he made some sketches there with some beautiful viewpoints and their spirits and lives of the people. Then, he had come back to his home and paint his works on washi papers with sumi-ink and draw a numerous strokes on his history and Japanese traditional technique. When he had done it, the next stage was begining
The message from Toyokuni honda
Toyokuni Honda said,
USA 50 gives us a great experience and great joy along with the various difficulties. I have the backup of a lot of people, and with thanksgiving and happy feeling, USA 50 is proceeding slowly and surely to enjoy the powerful. I do not know when to be the day of completion, but I will work hard with the aim of the day. We look forward to your support.
Important ones, such as sumi-e ink painting workshop and performance was born from the USA 50. This project has been highly appreciated, we have an exhibition of the work at the Tokyo American Club prestigious Tokyo. Donation of painting has also been made ??to the Consulate General of Japan in Seattle.