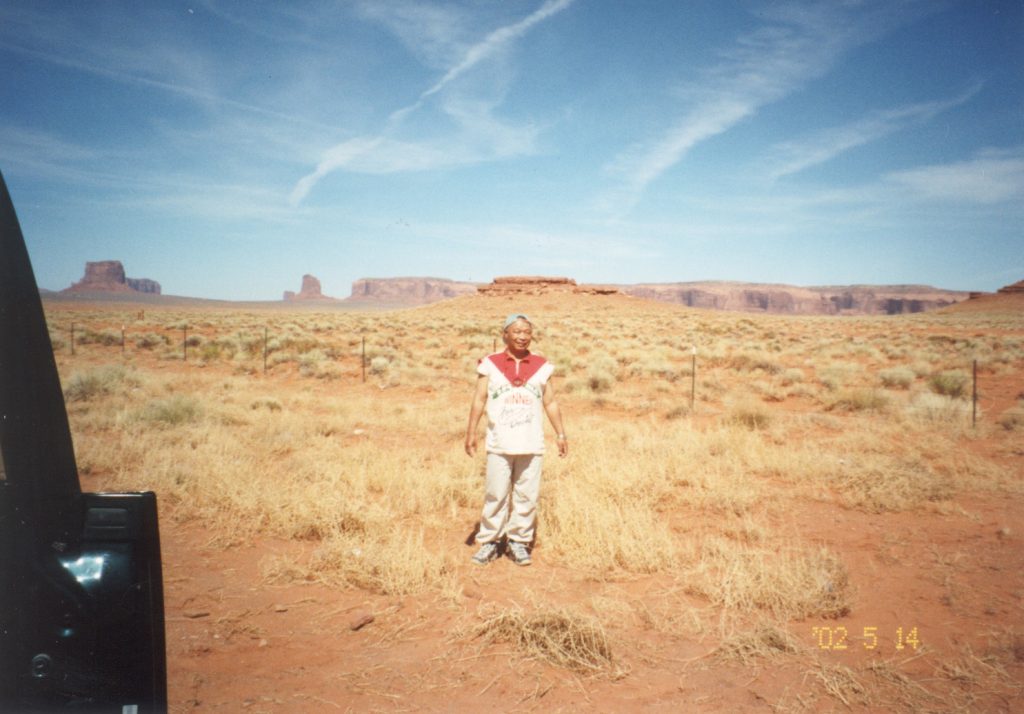 2000年に端を発したUSA50プロジェクト。全米50州を墨絵で描く壮大な旅路。長きに渡る活動の中で父であり、墨絵画家である本多豊國が病に倒れ、さらに米国の環境にも変化があり、長期に渡る停滞を余儀なくされました。家族として父の体調に対する不安や心配もあり、もはやこれまでかと思っていましたが、この夏に父は真剣なまなざしで私に宣言をしたのです。
「もう一度アメリカを描きたい」と。
父は病床にあってもくじけず思い続けていました。そしてこの梅雨頃から体調が劇的に快方に向かい以前の力強さが戻ってきています。自信を持ったからこそ出てきた言葉です。
今ここに再始動の狼煙を上げます。
米国側の環境の変化によりまた一からのスタートではありますが、実際にはすでに12州を渡り歩き数多くの作品があり一からではありません。2005年には東京アメリカンクラブで多数の展示をした作品、2006年
にはシアトルの日本総領事館に寄贈した作品が実績でありベースです。そして今、それらは神田神保町の豊國アトリエで展示されています。
これらの展示こそが私たちの意思表示であり、再始動の第一歩です。
父の「もう一度アメリカを描きたい」を実現させる夢の第一歩です。
もちろん父はただ描くだけで終わりません。50州すべてを描きます。それは父の代表作となり世界へ羽ばたいていくものになります。評価されるものであるのは間違いありません。なぜならたった数日のアトリエでの展示ですでにその反響はすさまじいからです。空間を支配し、見る者を圧倒するその作品は必ずや世界に出て行きます。この展示こそが豊國アトリエのご縁を頂いたその所以であり、象徴です。
私としても父の思いに応えたいという思いとともに、この作品の続きを見たいという欲求を抑えられません。ニューヨークはどう描く? フロリダは? ミシシッピ川は? アラスカ、ハワイはどうやって・・・?
見てみたいのです。これらの衝撃的な作品が50点並ぶ様を、そして本多豊國という絵描きの物語の続きを。彼の夢の続きを。そして終着点を。
HONDA WORKS 本多優太 Yuta Honda
USA50 project was started on 2000, that is the great journey to paint every states in the United States of America. There are a lot of sufferings on these days. One day Toyokuni having got down by a serious illness, also serious problems in the US, that's why we needed to stop the journey a long time. I thought it was over, we couldn't go forward more than now. We had too many problems and worries as the family. But one day in a rainy day in this summer, Toyokuni said to me seriously, gazing at my eyes, "I want to paint the US again".
He kept on thinking about painting and his own life on a bed, thogh he had got suffered against serious conditions. Then at last, he has overcome all difficulties.
Re-starting, we need to start again from the beginning because of changing the situations in the US in personal though, indeed, he has already journeyed on the road to paint in the twelve states, there are a lot of special unique sumie painting. Works exhibited in the Tokyo American Club on 2005, the painting gifted to the Japanese Consulate General in Seattle, WA, on 2006. These are the basement and achievements of Restating USA50 Project.
Now these are exhibited on wall in Toyokuni Atelier Gallry in Jimbocho, Tokyo, Japan.
That's the declaration of our intention, and that's the first step of our Re-stating. that's the first step to make his dream, "I want to paint the US again", come true. So I have displayed them.
Ofcource, he can't help painting every state in the US. The paintings are going to be his masterpieces. There is no doubt that the paintings will be surprising the world, because I got a lot of amazing reactions from the customers come see the paintings at the gallery on a few days. His works can controll the space and overwhelm everyone watching at them.
I think I want to live up to him and I care about the continuations of his paintings of USA50 Project. How does he paint NY? How's Florida? Missisippi River? How will he express Hawaii and Alaska?
I would like to see the exhibition with the shocking sumie paintings and the continuation of the story of a great painter Toyokuni Honda. I would like to see the sequel to his dream…and the end of this story.
Thank you,
HONDA WORKS Yuta Honda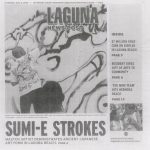 スポンサード Call For Sponcers
 アメリカでのスケッチツアーおよび事前視察、制作後またはその期間中の展覧会開催、日本での準備活動および帰国後の制作活動等USA50プロジェクトにかかわる費用についてのスポンサーシップパートナー、および技術協力していただけるテクニカルスポンサーシップパートナーを常時歓迎しています。
中断前の活動の際にはたくさんの出会いがございました。すべてが貴重で濃密なもので素晴らしい体験の数々でした。それらは特別な場所でではなく、グランドキャニオンへの道中で、ヨセミテへ向かう山道で、アイダホの広大なポテト畑のピザ屋で、すべてのアメリカの道中、そして、出発前帰国後のこの国でのものです。今私たちはあなたと出会うことを望んでいます。あなたとともに夢をかなえることを望んでいます。同じ景色を見ることを望んでいます。
HONDA WORKS welcomes sponsorships from companies and organizations of all kinds. We are excited to offer our sponsors the benefits listed on right, and to discuss specific needs and oppotunities that further meet eachsponsor' s needs.
There are a lot of wonderful meetings on the journey before suspending. All is the great experience for us. These were not only in the special place but also on the way to Grand Canyon, on the mountain road to Yosemite, at the pizza restaurant surrounded by potato fields in Idaho, on every roads in the US, also in Japan. We hope we would have a great meeting each other. We hope our dreams would come true together. We hope we would see wonderful view together all.
目的 Purpose
 本多豊國のアメリカツアーの成功を第一の目的としています。それに伴う日米の人と人、文化と文化などの交流を第二義とし、さらに墨絵という素晴らしい芸術の世界への頒布を最終的な目的としています。またその過程において墨絵以外にも様々な文化芸術の交流や頒布も目的としています。
The first mission is to get success in the journey in the US. Secondary, we hope to have a lot of communications among peoples and cultures in their lives. Finally, we hope to spread wonder sumie to the whole world.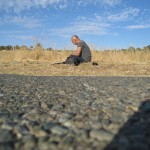 Sumie Sketching Tour on 2009-2010
21 Spanish Missions
The Spanish Missions in California comprise a series of 21 religious outposts; established by Catholic priests of Franciscan order between 1769 and 1833, to expand Chr ist iani ty among the at ive Amer icans northwards into what is today the U.S. state of California. The missions were part of major effort by the Spanish Empire to extend colonization into the most northern and western parts of Spain' s North American claims.
On sketching 21 Missions tour on 2009-2010, he had a lot of connections with people who lived in CA, and he interacted with them. Sketching in front of them, sometimes giving a sketch of them…Also he had a great time to do that. Finally, he had done sketches of all missions on 2010. Then he has begun to make his paintings to express what he felt on the way.
Spanish Missions is known as the oldest and famous historic place located on or near Highway 101 in California. Missions are also the states's most-visited historic monuments today.
The story started visiting to San Juan Capistrano because he had stayed in near there, and because he heard there was a good-view garden. At first, he wanted to just do sketches. On the two-years way among all missions, he had learnt and felt something invisible though all missions stood in front of him clearly. Over 6 years later, he has felt something in his heart…
He met a lot of people on the tour. In front of a mission, on a road, in a city, at a store, every place where he made aketches. That's why his painting would be drawn not only 21 Missions but also people who he met. We know it's the important things. Missions are not just historic structures. People related with all Missions. These were constructed by their hands.